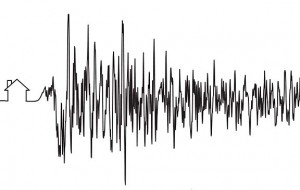 Steven and Melissa Groom's home is less than five kilometres from the faultline that broke in September, but barely has a scratch and has never lost power.
The lack of damage remains a mystery, but the reason for continuous power is not.
Since they moved in last May, the Groom's Darfield house has been running on solar power.
Nineteen rooftop solar panels and three blocks of evacuated tubes provide almost all the electricity and hot water required by the family of five.
The off-grid system is priced at $35,000, with the house costing a total about $425,000.
"It's quite nice to be in control of your own destiny," Steven Groom says, "and show you can build a standard house and make it off-grid."
During summer, the panels generate more power than can be used or stored in the battery bank, but in the winter months, they sometimes fall short.
A diesel generator makes up the difference. So far, it has had only 20 hours use.
Groom hopes earthquake-hit Christchurch homeowners will consider the power system, or a hybrid, in their rebuild. Too often, he says, green living is the domain of do-gooding millionaires and penny-pinching hermits.
"This is the middle ground. I'd like to see a standard family of five like this."
Inter-connected power, where homeowners feed excess power back into the grid for credit, may be more suitable in built-up areas, he says.
"A lot of people do the bare minimum," Melissa Groom says, "which is all very well if it's just you and the dog.
"People go for really small solar [power] systems and then panic and put in gas. Environmentally, that's the worst thing you can do."
As they scouted for materials, the couple found mainstream options were limited.
"When we were going around the building companies, I don't think a lot had got on board really," Melissa Groom says.
"They all seemed a bit cautious, waiting for other people to do it first."
Steven Groom registered as an importer and bought solar panels and batteries direct from China, bypassing the "100 per cent margin on everything" some suppliers charge.
The falling US dollar has added to the buyer's market, he says.
However, there have been some sacrifices.
The Groom house has no air-conditioning, and the family had to give up their tropical fish when they left Sydney two years ago. However, Groom hopes others are prepared to "compromise the corners" and make self-sufficiency the norm.