BUILDING WITH PALLETS WORKSHOP, Nelson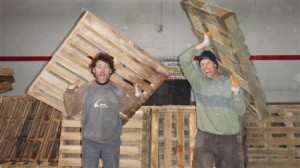 I would seriously commend this to anyone who can make it.  Mark is a visionary with the professional skills to back it up.  Check out his website for some pictures of what he can do – Ed.
Learn how to construct safe, durable and comfortable buildings from wooden pallets and other recycled waste materials.
Courses will be run when sufficient numbers have registered.
3/34 Vanguard Street, Nelson (Next to Vertical Limits)
Mark Fielding, director of Solabode Ltd, a Licensed Building Practitioner and eco home designer with over 30 years' experience will teach you all there is to know, such as sourcing materials, using tools and various construction techniques for building sheds, cabins and even homes from:
wooden pallets as structure,
waste polystyrene for insulation,
old carpet for linings coated with clay paint, and
old corrugated iron for cladding.
Friday evening will be discussion only from 5pm to 9pm. Saturday 9am to 5pm will be hands on making pre-fab wall panels with Sunday 10am – 5pm hands on construction of a small building. Printed handout notes on all aspects taught will be included. Tea and Coffee provided only. Places limited to 12.
Cost: $165.00 Including GST
Contact Name: Mark Fielding
Contact Email: mark@solabode.co.nz
Phone number: 03 5468760
Website: www.ecotect.co.nz/pozie.html